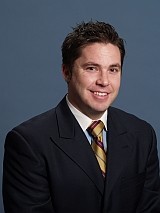 Patrick
Kearns
Vice President, AXA Advisors Western Region
 Patrick, a native of Las Vegas, NV, graduated from the University of Las Vegas with a Bachelor's Degree in Finance. Since 2001 he has been with AXA focusing on Tax Sheltered Plans with the Retirement Benefits Group.
Patrick was promoted to the Vice President role in November of 2005. His success can partly be contributed to his appetite for learning. In 2007, he was awarded the title of Retirement Planning Specialist by AXA Advisors based on the receipt of a Certificate in Retirement Planning at Wharton School, University of Pennsylvania.  With the extensive education, knowledge and training gained from the Wharton School, he is able to help guide individuals through the retirement process and implement strategies designed to achieve retirement success.
As an alumnus, Patrick donates his time to UNLV's Financial Management Association, which helps students prepare for careers in the financial industry. Patrick also participates in the Clark County School District's various student outreach programs.
California Insurance License #: 0E65259


Securities and investment advisory services offered through AXA Advisors, LLC (212-314-4600), member FINRA/SIPC. Annuity and insurance products offered through AXA Network, LLC and its insurance agency subsidiaries. AXA Network, LLC does business in California as AXA Network Insurance Agency of California, LLC and, in Utah, AXA Network Insurance Agency of Utah, LLC. AXA Advisors and its affiliates do not provide tax or legal advice. Individuals may transact business and/or respond to inquiries only in state(s) in which they are properly registered and/or licensed. The information in this web site is not investment or securities advice and does not constitute an offer.